KCMPA-ACO: A Market Development Review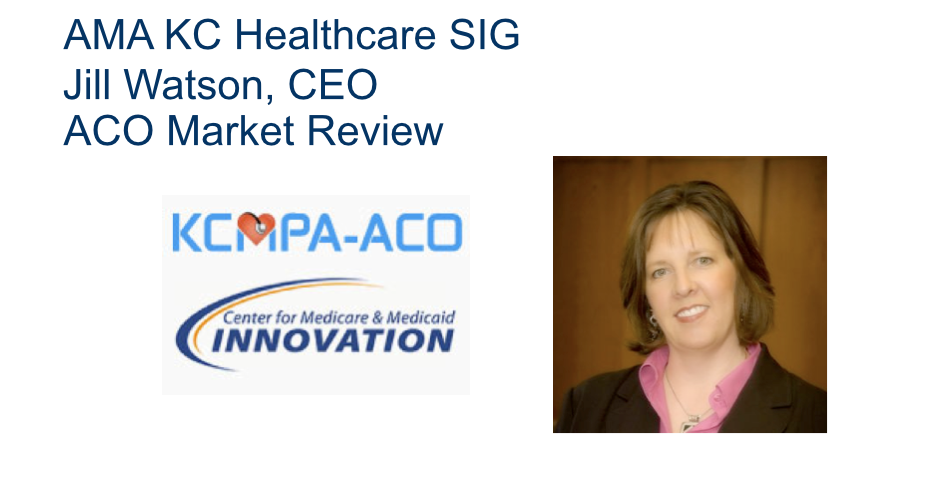 When: 4:00pm | Wednesday, March 4, 2015
Where: Rockhurst University | Map
[button link="https://amakansascity.wpengine.com/event-registration/?ee=40″ size="large" color="red"]Register for the Event[/button]
Description
Come and hear Jill Watson share on ACO development activity for KCMPA-ACO and a brief review of ACO impact on providers & plans on March 4th 2015.
Speaker
Jill Watson is the chief executive officer of the Kansas City Metropolitan Physicians Association, LLC. This ACO organization of Kansas City area physicians is new to our community and is leading a transformation from volume to value. KCMPA seeks to move away from paying providers more when they perform more services to rewarding providers when their patients are as healthy as they can be given the conditions they have.
In March 2013, she became the CEO of KC?s first accountable care organization, KCMPA-ACO, an innovative, physician-led organization with the triple aim of better patient experience (including quality and satisfaction); better health of populations; and lower cost. Under her leadership, KCMPA has achieved many milestones on the road to population health management and value based payment.
Cost
$5 AMA member, $15 non AMA members, Free for all Graduate/ Undergrad Students
Come and join us for some great marketing insights, treats and SIG networking. All healthcare marketers and planners from physician groups, hospitals, payers and pharmaceuticals are invited.
For more information
Vince Vandehaar, SIG Chair 913 302-7264
Laurie Rockhill (TMC) 816 404-6755
[button link="https://amakansascity.wpengine.com/event-registration/?ee=40″ size="large" color="red"]Register for the Event[/button]