Apps Apps Apps: Saint Luke's Primary Care Next Gen
St. Luke's Health App Rollout
Steve Kropp and Jeremy Krashin will give an in-depth overview of Saint Luke's Health System's new app rollout, including how the app works, goals of the app tool, marketing the app and healthcare app usage in general.
Come and join us for some great marketing insights, treats and Healthcare SIG networking. All healthcare marketers and planners from physician groups, hospitals, payers and pharmaceuticals are invited.
For more information, please contact AMAKC Healthcare SIG Chair Vince Vandehaar (Rockhurst University / VVV Consultants LLC) at (913) 302-7264, Co-Chair Alexa Backman (VVV Consultants LLC) at (816) 509-8464 and/or Co-Chair Laurie Rockhill (Truman Lakewood) at (816) 404-6755.
This event is open to members and non members of AMA. For those purchasing tickets with the membership discount, membership will be checked at the door. 
Limited Student Scholarships are available. Click here if you're interested.
Steve Kropp
System Director of eHealth and Outreach Services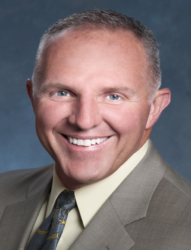 Steve works with regional clinics and hospitals outside the KC metro area to provide specialty services and patient access at the local level as well as coordinating tertiary referrals where appropriate. As the Director of eHealth Services he is responsible for building the SLHS eHealth program. Steve received his Master's in Administration from the University of Tulsa and has over 25 years' experience in creating care delivery models in the Midwest.

Saint Luke's operates 11 hospitals in Kansas and Missouri in which the eHealth effort fills a vital role in delivering specialty services across the system and beyond. eHealth was designated as a core competency in the SLHS Malcolm Baldridge Quality Award application and has seen double digit growth in patient services since the eHealth cost center was developed in 2006. The Saint Luke's eHealth department has provided training to programs from across the nation who has visited SLHS desiring to better understand emerging eHealth models. Programs such as: The University of Utah, The Ohio State University, Barnes Jewish Hospital, Blessing Health System and Integris Health System have inquired regarding the eHealth model of care utilized at Saint Luke's.